We want your experience with starting your wellness journey to be as enjoyable and easy as possible. To keep things clear, we've listed the answers to some of the most frequently asked questions in one single section. Have a look at the FAQs below and get in touch if you have any other questions, or would simply like to have a wee chat Thanks
Frequently asked questions
Yoga Class
Too Old or too Young to attend?
---
Am I too old? Simple and short answer is NO! you are never too old to take part in yoga. You might want to take things at a slower pace or modify certain yoga postures but that is 100% perfect, as long as you honour what your body can do. Am I to young? You must be Age 16+ to attend classes with the exception of 'The Family club workshops'. The Family Club: Suitable for children 2-12yrs & their grown up. Family fun yoga through stories/themes/yoga games/music/asanas/breathing & relaxation activities. Promoting healthy bodies & healthy minds. Suitable for beginners.children 2-12yrs & their grown up.
---
What Are the Benefits of Yoga
---
Benefits of Yoga: Increased flexibility and range of movement. Development of strength and muscle tone. Breath awareness. A sense of vitality and energy. A more balanced metabolism. Enhanced athletic performance. Protection and recovery from injury. Improved focus and concentration. Greater self-awareness and acceptance. Better balance and core strength to protect you from falling. A sense of calm.
---
What do I need to bring & Wear to a class
---
All you need to bring is yourself a yoga mat and a bottle of water. Wear something that is comfortable to move around in. It is optional if you would like to bring a yoga strap, blocks, eye pillow and blanket. Usually we offer yoga props to our students however, at the moment covide protocols restrict us from doing so. Hopefull things will change and we can offer props again in the future.
---
How to book a class
---
Book a class using your 6 session Studio Pass Important info - Always sign in to your account with the same email address that you used to purchase your 6 session studio pass.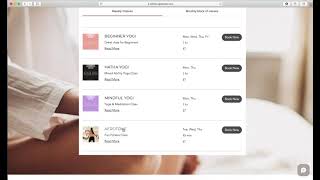 ---
Are the classes suitable for pregnant ladies
---
Although Yoga is very beneficial for soon-to-be mothers there are some precautions that must be taken and some postures that must be avoided. That is why we highly recommended that you only attend specialised prenatal yoga classes. Our 'Mummy to Be Yogi' Classes will be added to the timetable this Summer 2021 Classes run in a block of 6.
---
Attending your first class (What you need to know)
---
Please arrive 10 minutes before class. This allows for a smooth start to our class with minimal disruptions. BEFORE class, advise your teacher if you have any injuries, if you are pregnant, or if you have any medical conditions that the teacher should be aware of. We aim to make the class easy to follow and offer modifications, however, please be mindful of your body. If a posture or movement doesn't feel right, don't do it. Please turn your mobile phone off and If you wear a smart watch please ensure it is on silent and that the screen is in theatre mode.
---
How to add your name onto a class waiting list
---
At the moment it is only possible to use the waiting list option if you are booking through the Elliott Yoga Studio (WIX) mobile app. Its easy to download and makes booking classes and staying in contact with us even easier.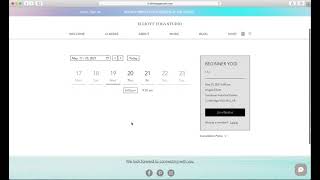 ---
Ways to contact us
---
Please feel free to contact Angela or Nicky on 07754828661 or email us here info@angelaelliottyoga.co.uk Please conact us within the hours of 9am till 5pm Monday to Friday. Any messages left over the weekend will be answered on the following Monday.
---
---